In my last blog, I wrote about a recent visit to Maya Lin's Listening Circle at Chief Timothy Park in Eastern Washington. Associated with the Confluence Project, the site asked challenging questions about how sound and listening to silence can help us recognize the devastating impact of Lewis and Clark's 1804/5 expedition on Native American communities and their historical relations to the waters and lands along the Snake and Columbia Rivers.
In this post, I share some thoughts about a visit to another Confluence site, Celilo Falls. A bit more than 200 miles west of Chief Timothy Park, Celilo Falls is one of the oldest settlements and trading hubs in North America; its history reaches back at least 15,000 years. Indigenous river people lived and came here to fish salmon as they jumped up the falls during their migration. The site's name, in various Native languages, means "echo of falling water" or "sound of water upon the rocks." The rapids' thundering sounds, created by a narrowing of the riverbed and dramatic horseshoe cliff, defined the entire area's identity. Clearly impressed by the falls, Lewis and Clark described them as "an agitated gut swelling, boiling and whirling in every direction."
In 1957, the opening of the Dalles Dam a few miles downstream from Celilo Falls turned the river into what is more or less now a lake. The postwar frenzy of electrification, transforming the Columbia River into what historian Richard Wright has called an "organic machine," thus not only silenced the rapids' mythic roar but also deprived Indigenous communities from how they had sustained themselves for thousands of years. The river's once abundant salmon population radically decreased over the coming years while the cliffs entirely disappeared from sight under the water's surface.
According to a local saying, prior to the dam the river was so rich in salmon you could practically walk to the other side. The rocks that once made up the rapids are of course still submerged somewhere in the deep here. But no one wants to open the floodgates even only for a day to restore the falls' famous roar, for it would simply reopen a wound that can never heal. No archived sound recording exists of the rapids' roar despite their fame, their mythic status. A few old films show Native fishermen at work as they lower their giant nets at considerable risk into the falling water, using gaff hooks, spears, and baskets to gather oil-rich Chinook salmon, observe each other's activities on deftly constructed wooden platforms, and traverse the water with rope and cable trolleys. But none of these films feature the rapids as a sonic phenomenon as such. None was shot to capture the water's roaring and rumbling as a distinctive soundscape that gave Celilo Falls its name and character.
What you find today when visiting the place of the former rapids is Celilo Park, managed by the U.S. Army Corps of Engineers. It serves as a picnic area, a rest stop along I-84, a site to park your camper for a few days, a place to launch your boat to cruise the waters. Maya Lin proposed an arced 500 ft walking and viewing ramp for this site as one of the six interventions of the Confluence Project. It was meant to resemble and recognize the fishing platforms Indigenous fishermen still use today in other areas to catch the remaining salmon. Three local tribes signaled their support for Lin's project, a fourth opposed any further intrusion and public construction. The politics of all this were and continue to be messy. They have put any memorial construction on hold, with no turnaround in sight. Strangely, however, the absence of a finished memorial project here makes the site more memorable, more moving, more engaging than most of the other ones.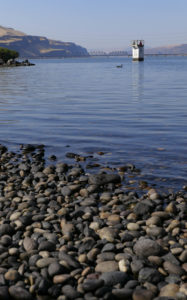 What you hear today when standing at the former location of the falls is this: cars, trains, barges, the voices of people encamped in the park . . . and ever so often the roll of tiny waves, caused by speedboats that race across what is now a lake. When I visit the site on a glorious early October day, I record these sad sounds, and while holding my microphone as close to the water as I can, I wonder what it would really take to record the kind of erasure that happened here in and after 1957, what it would take to capture the fact that the falls' echoes of water upon rocks are no more.
In his book on the making of the Columbia River as we know it today, Richard Wright concludes:
"The river we have partially created changes before our eyes, mocking our supposed control. It changes, and as it changes, it makes clear the insufficiencies of our own science, society, and notions of justice and value. The Columbia runs through the heart of the Northwest in ways we have never imagined. It flows along the borders of the numerous divisions in our fractured society. To come to terms with the Columbia, we need to come to terms with it as a whole, as an organic machine, not only as a reflection of our own social divisions but as the site in which these divisions play out. If the conversation is not about fish and justice, about electricity and ways of life, about production and nature, about beauty as well as efficiency, and about how these things are inseparable in our own tangled lives, then we have not come to terms with our history on this river." (Richard White, The Organic Machine: The Remaking of the Columbia River. New York:  Farrar, Straus and Giroux, 1995. 114).
I have to think of this passage as I leave Celilo Park and merge back into the busy traffic on I-84. Wright is right: the Columbia isn't what it once was. Its history cannot be separated from the history of how human interventions have changed its course. Today, it largely figures as a gigantic energy system produced by technological interventions catering to our electric needs. Its dams and turbines, its straightened bed and controlled flow, all have replaced the way in which work and energy—the fishing and trading of salmon—linked humans and river, human and nature, over many millennia. But to come to terms with the Columbia, its past and present, we not only must talk about the river's complex history. We somehow also must learn how to listen to what all these transformations have silenced. And this is no easy task. Today's din of industrial noise, of ceaseless traffic, transportation, and leisure, no longer allows us to perceive the absence of Celilo Falls' former roar as silence. What we are dealing with instead is a double erasure: a violent flooding of physical and spiritual landscapes, and a flooding of our listening that keeps us from truly recognizing the story of destruction and loss that has happened here.
The tensions between Native communities and Confluence activists that led to the current hold on Lin's memorial at Celilo Park are complex–too complex to be recounted here. As I head West after my visit toward The Dalles, however, I don't really regret the absence of a physical structure memorializing the erasure of Celilo Falls. No monument will ever be able to echo the muted sounds of falling water here. In some way, the silence at the Listening Circle in Chief Timothy Park was too deep in order to come to terms with the legacy of Lewis and Clark's expedition, whereas the noise at Celilo Park is too distracting in order to recognize the silence settler colonialism sought to imprint on Indigenous land and its people. What's clear, however, is this: as much as the Columbia, as we know it today, deeply reflects social divisions and profound conflicts about the meaning of technology and modernization, so do the scars of history run across the very effort to listen and attend to what this history has done to this land and its Indigenous populations.
A single person's ears, I conclude as I approach the massive dam in The Dalles, will not be able to resolve these conflicts in any meaningful way. Even mindful acts of listening might get stuck with paradoxes that resist tidy resolutions. So, I depart with many open questions, certainly more questions than I had before my arrival, such as: What role can the recognition of auditory ruptures serve in addressing the open wounds of history? Because the idea that one could somehow fix the past tends to reproduce the very hubris that drove the past's violence: how can acts of listening contribute to re-tuning our place in the world and re-pair the historical relationships not just between humans but also between the human and the non-human?
And finally, what kind of listening would it take to unravel the way in which modern America rests on the interlacing of genocidal and anthropocenic histories?
Lutz Koepnick is the Max Kade Foundation Chair in German Studies and Professor of Cinema and Media Arts at Vanderbilt University (Nashville, USA). Koepnick has published widely on film, media art, new media aesthetic, sound art, and intellectual history from the 19th to the 21st century. He is the author of The Long Take: Art Cinema and the Wondrous (2017), Michael Bay: World Cinema in the Age of Populism (2017), On Slowness: Toward an Aesthetic of the Contemporary (2014); Framing Attention: Windows on Modern German Culture (2007); and The Dark Mirror: German Cinema between Hitler and Hollywood (2002). Koepnick is the co-author of Windows | Interface (2007), and co-editor of various anthologies on sound culture, new media aesthetics, aesthetic theory, German cinema, and questions of exile. His book Resonant Matter: Sound, Art, and the Promise of Hospitality was published by Bloomsbury in 2021.